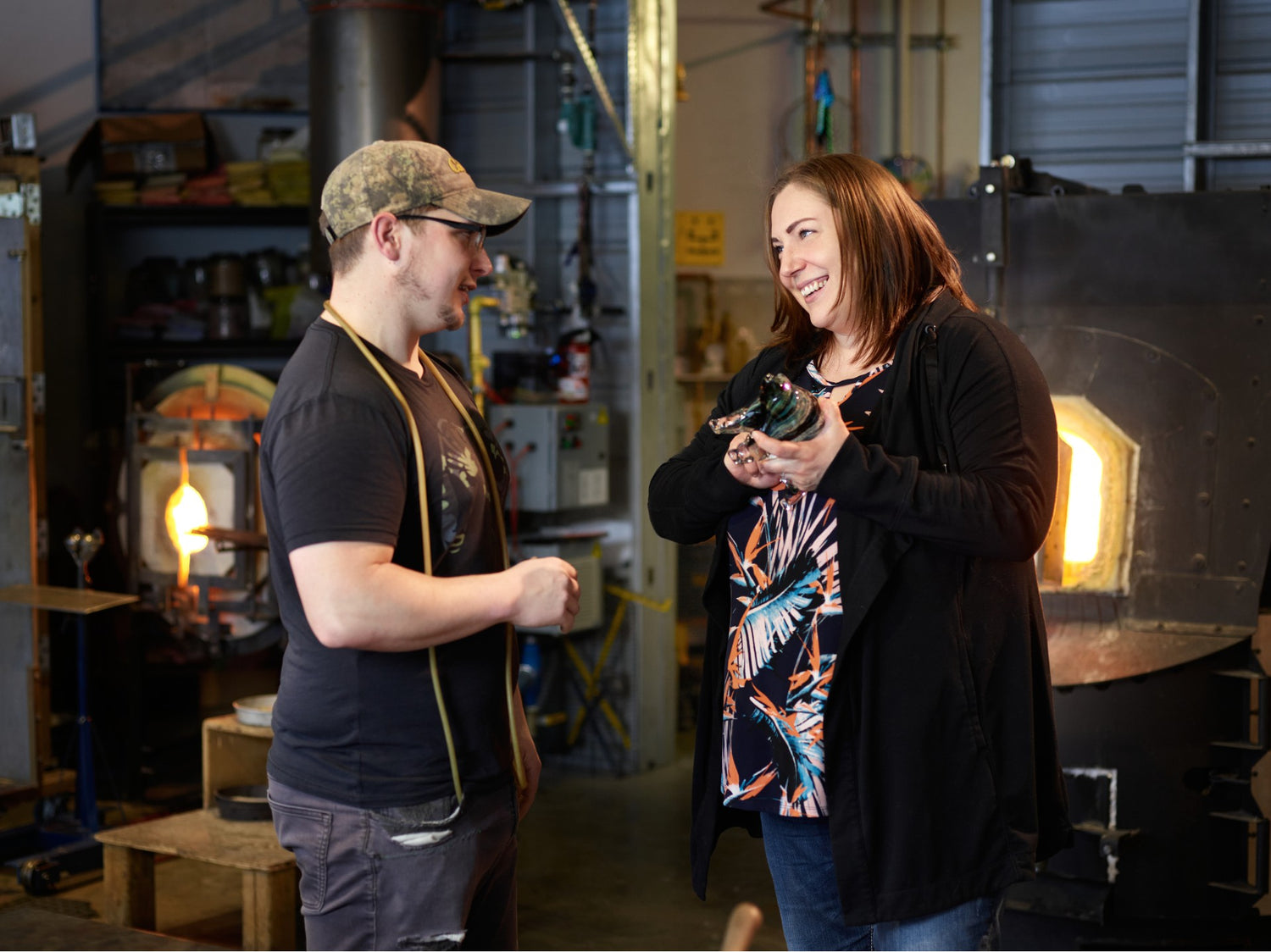 We Understand
At Lumel Studios we cultivate happiness but we also understand grief. We have known loss, and we find solace and meaning in working on these personal items that celebrate your loved one with tangible permanence. Our highly skilled glass artists approach every piece of memorial artwork with a spirit of compassion for those who are grieving, and an acknowledgement of the meaningful lives that we're commemorating. Each item is handcrafted with care in the Yukon in our sustainable facility.
Testimonials
"

I just received my beautiful glass orb of a starry night sky made from my husband's ashes. It is more beautiful than I could have imagined. Thank you from the bottom of my heart.

-Kim

"

I just received the creations you made me from my beloved dogs. I am amazed at their beauty, they are incredible. You all are truly amazing and take great care in what you do, I recommend this amazing place to help create something beautiful from ashes of your loved ones, and fur babies.

-Judy

"

The team at Lumel is nothing short of incredible. Such patience with each of us as we chose something to remind us of our Dad. The experience was amazing from start to finish. Thank you a million times, Lumel!

-Chantal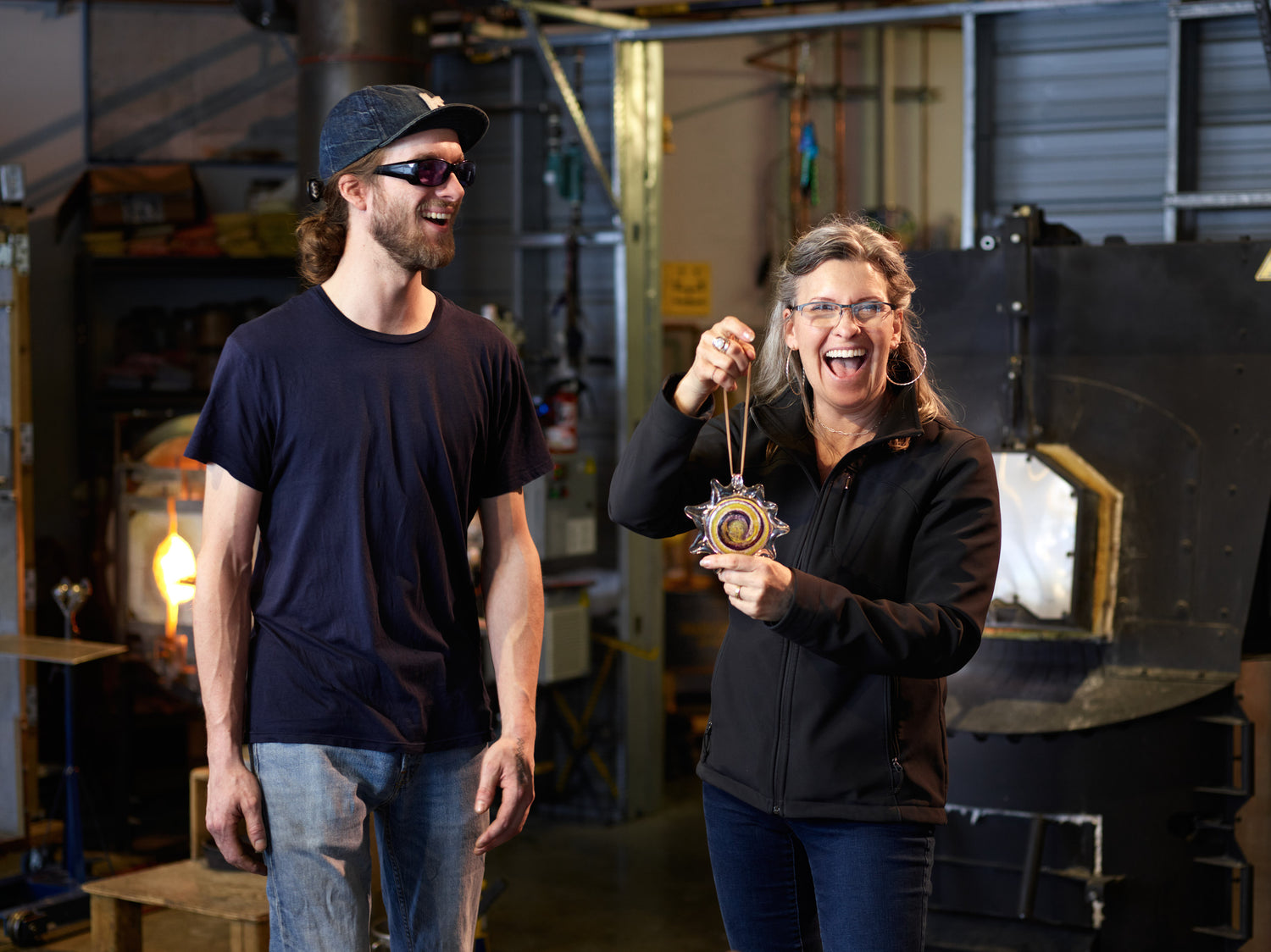 Our Memorial Creations
Each piece we create is as unique as the loved one it celebrates. We offer a wide selection of designs and sizes, and we also create unique custom pieces that capture the spirit and personality of of people and pets.
We have created a beer stein for a son in New Brunswick so that he can drink with his dad again. We blew a huge garden ball to commemorate a Brandon, a Manitoba mother who loved to garden. And we have sent pendants and blown Northern Lights orbs to multiple places across Canada and the United States.
Popular items we create include hanging orbs, flowers, hummingbirds,
dragonflies, pendants, solid hearts, sitting dogs and cats, and more. Custom
pieces include detailed pet portraits, spirit animals, model cars, and garden
orbs. We have even made a glass and ash didgeridoo!
We truly mean it when we say "you dream it, we create it!"
Visit our shop for more information about the items we create that represent
loved people and pets, including options for sizes, pricing, and design.
What We're All About:
Our Process

When ashes are added to glasswork, they create a white, bubbled swirl that looks like the milky way, or a streak of Northern Lights. The vividness and beauty of the ashes are augmented by the clear and coloured glass we use to create your piece. We will keep you informed throughout the process, ensuring that we honor your loved one at every step.

Learn more about how we create your artwork:

Learn more...

Our Story

We don't just create art or legacy pieces, We create happiness. We were founded in 2016 by Luann Baker-Johnson and her husband (and high school sweetheart) Mel, after Lu turned to glassblowing as a way to to cope with the loss of their daughter, Rondi, to leukemia. A vibrant part of the Whitehorse community, Lumel Studios is a place where the young and old, the healthy and the weak, create something lasting and strong together.

Learn more about our story, and our deep connection to community:

Learn more...

Our Home

Lumel Studios is located in beautiful Whitehorse, the capital of Yukon, and the largest city in the north of Canada, with a population of 25,000. It's a land of adventure and majesty, and a place of diversity and joy. We respectfully acknowledge that we work with in the traditional territories of the Kwanlin Dün First Nation and the Ta'an Kwäch'än Council.

Learn more about our home, our studio, and the First Nation legends surrounding the Northern Lights:

Learn more...